At Westerly Library & Wilcox Park: Library Staff's End-of-Year Pick | Guest columns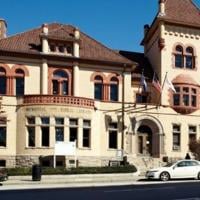 As we prepare to say goodbye to 2021, I thought it would be fun to recall some of our favorite books and movies from last year. I've quizzed the staff here at the Westerly Library and Wilcox Park, and they came up with a ton of great suggestions to add to your "must read" and "must watch" lists!
Fiction is always a popular genre, and we've had a lot of new favorites. Our Executive Director, Brigitte, enjoyed "The Vanishing Half" by Brit Bennett and "The Book Woman of Troublesome Creek" by Kim Michele Richardson. Marilyn, one of our outstanding book gurus, recommended "The Whisper of the Bees" by Sofia Segovia, a historical fictional novel set in Mexico during the 1918 flu pandemic. Morgan liked "The Invisible Life of Addie LaRue "from VE Schwab, which received high praise when it was released earlier this year. Our accountant Sara enjoyed the audiobook version of "Anxious People" by Fredrik Backman, which she described as "a very funny, sad and relatable book". Finally, author Kristin Harmel's books were widely praised: Local History Librarian Nina liked "The Book of Lost Names" (2020) and Stacey, our Development Director, loved "The Forest of Vanishing Stars. ". I don't read a ton of fiction, but I have read most of Taylor Jenkins Reid's books, including "The Seven Husbands of Evelyn Hugo" and her latest novel, "Malibu Rising".
If you're into mysteries, Keara Outstanding points to Stephen Spotswood's "Fortune Favor the Dead", a fun and fast-paced noir novel. Stacey liked SA Cosby's "Razorblade Tears", another book critics praised this summer. Our two team colleagues recommend the YA thriller "The Daughter of the Fire Guardian" by Angeline Boulley. Graphic novels continue to gain in popularity, and Kendra particularly enjoyed Aminder Dhaliwal's "Cyclopedia Exotica", a work of "satirical", "playful" and "provocative" socio-cultural criticism.
For non-fiction fans, Susan in collection management praised Suleika Jaouad's memoir "Between Two Kingdoms", and children's associate Meagan liked Alex Trebek's memoir "The Answer Is … ". Kate in circulation suggests "The Antidote: Happiness for People Who Can't Stand Positive Thinking" by Oliver Burkeman, and I absolutely loved "Eat and Run" by ultra-runner Scott Jurek.
Finally, let's talk about cinema and TV. Brigitte watched "Tenet" (2020) and "The Little Things" (2021). All ages can enjoy the new Pixar movie "Luca", which was recommended by Colleen (along with my 3 year old daughter and my 3 year old husband). There are also a lot of older titles, like "The Age of Adaline", which our marketing director Kelli has seen and loved many times, and "Cold Mountain" (2003), a period war movie recommended by Paul. , from our parks department. Morgan has been on "The Great British Bake-off," which will make you want to bake all kinds of goodies in the kitchen. Allynn recommends the Canadian series "Murdoch Mysteries", Marilyn recently appeared on the former British medical show "Doc Martin" and Colleen is watching a new British comedy: "The Other One".
Discover them and much more at the library!
Most Popular Books
1. "The Lincoln Highway" by Amor Towles
2. "Apples never fall" by Liane Moriarty
3. "The Judge's List" by John Grisham
4. "I wish you were there" by Jodi Picoult
5. "The Dark Hours" by Michael Connelly
6. Anthony Doerr's "Cloud Cuckoo Land"
7. "The Last Thing He Said To Me" by Laura Dave
8. "State of Terror" by Hillary Rodham Clinton
9. "Better Off Dead" by Lee Child
10. "Thank you" by David Baldacci
Most Popular DVDs
1. "No time to die"
2. "The French dispatch"
3. "Venom: let there be carnage"
4. "Dune"
5. "The last duel"
6. "The Crown: The Complete Fourth Season"
7. "The Many Saints of Newark"
8. "Scream macho"
9. "Dangerous"
10. "Jungle cruise"
This week
TUESDAY – 12 p.m. to 12:45 p.m., Minute to Win It Grab & Go – These fun and silly challenges, aimed at ages 8-12, are designed to be completed in a minute or less and are played with common household items! Available for pickup in the Kids' Room while supplies last; 1:00 p.m. to 4:00 p.m. Community Resource Advocate – Our volunteer Community Resource Advocate is available to help you connect to local services / resources. Email him at [email protected]; 2:30 p.m., Virtual Tech Social – We meet on Zoom every Tuesday to answer your technical questions. Pre-registration is required; 5:30 p.m. to 7:30 p.m., Knit and Crochet Club – The Knit and Crochet Group meets weekly on the Reference floor.
THURSDAY – 10 a.m. to 11 a.m., Anti-Hate Youth Artistic Evening – Join us in the Terrace Room on the 3rd floor, where participants will receive materials to create anti-hate public messages for their community. They can leave them at the library for a pop-up art show in January, enter them into the #USvsHate contest, or take them home! Children and teens are also welcome to drop artwork in the kids room or teens area on this day as well.
FRIDAY – The library will close early at 5 p.m. for New Year's Eve.
SATURDAY – The library is closed for New Years Day.
Cassie Skobrak is Reference Librarian at Westerly Library and Wilcox Park.