?? Elysia: The world in children's dreams ?? Bringing the dream to life on screen ?? TV show or movie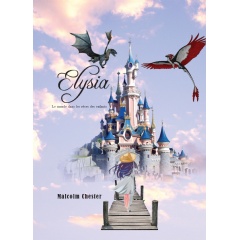 A coming-of-age story in a fantasy setting about a young girl and a boy whose nocturnal adventures in a dream land teach them compassion, bravery and love. Waking up in a strange and surreal place, Courtney finds herself in dreamland. Welcome to the world of Elysia, a place of wonder and magic, light and beauty, purity and evil, an endless imagination of adventure and friendship.
The book begins with young Courtney, disturbed by the lights and the sound of a police car, covering her ears as she lies down in bed. As she closed her eyes and fell asleep, she wakes up in front of an iron gate with a sign saying ELYSIA.
Or?? Where am I? Is it a dream or ??
Inside the gate, hosts a fantastic Funland with iridescent colors, mounds of candy, fantastic creatures and different rides that every child would enjoy. Every time Courtney falls asleep, she is transported to Dreamland. There she meets strange new friends and encounters a series of frustrating events.
In the real world, Courtney has trouble at home and longs to get back to Elysia. She also fears puberty and hates facing the idea of ​​becoming a grown woman. As the story unfolds, the line between reality and fantasy blurs. Though rich in fun and magic, Elysia is in grave danger as the Crystal of Light has been stolen. Apparently, the walls of Elysia weaken as the days go by, and a journey to retrieve the crystal must be made in haste. The journey to the Maelstrom begins. It is a perilous quest that no one has even dared to undertake and most adventurers have never managed to return. Throughout their journey, the Light Swords must defeat a huge black serpent, a pack of wolves, the Dark King's soldiers, and a talking dragon. Along with her newly formed friends, Courtney must complete the quest to return the Magic Crystal to the Evil King and restore balance to the land.
?? Chester keeps the vocabulary and topic narrowly focused on the things that interest and confuse children as they start to grow up. At the same time, it sends a message of empowerment to children, regardless of the difficulties they may face in the sometimes too real world of adults.
–American Book Review
Readers all over the world adore the Elysia Wonderland, a compelling imaginative world that speaks of terror and tenderness, innocence and chaos in life. Book reviews praise the author for describing a fantastic novel that is not only suitable for children, but also offers a timeless lesson for adults. It's a beloved book that sparks your imagination with poignant words, keeping you asleep in dreamland, Elysia.
Far in the real world, reading Chester ?? s Elysia takes you to a land of dreams and childish wonder. As interesting and imaginative in the text, making a film about the world of Elysia will dazzle the youngest and educate them with lifelong lessons. Adorable and pleasant, author Malcolm Chester charms his reader by making him weave an extraordinary world while introducing fantastic and charming characters. And also, these stories are about a lot of things, like growing up in different phases is also talking: learning to feel, falling in love and becoming an adult. Indeed, it was a brilliant story that made a great film, plunging the viewer into the extraordinary hidden beyond the ordinary.
Get a copy of the book, Elysia: The World in Children ?? s Dream at www.aegadesign.co.uk; www.amazon.com; www.barnesandnoble.com; www.kobo.com, etc.
This news content may be incorporated into any legitimate news gathering and publication effort. Linking is allowed.
Press release distribution and press release distribution services provided by WebWire.