local novelist turns to Iceland for latest book | Arts and culture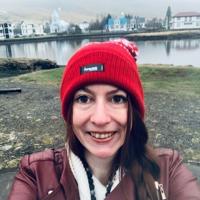 SOUTH NEWFANE – "Just So Many Places" by Jessica Sticklor came together over about three years, the first part being developed while the local author was isolated in Iceland and admired all the scenery.
"The most rural parts of Iceland were isolated and odd looking," she said. "I think it was a great inspiration to write this. I just fell in love with the scenery."
The literary fictional novel released this month follows a biracial lesbian couple who buy a sheep farm in Iceland. Sticklor, who used the pseudonym Jessica Stilling, said the sheep were always wandering and bleating.
Living in Vermont "really cemented" what it is like to live in a rural community, said Sticklor, who moved to South Newfane in October 2020. She has chickens that are also constantly roaming around.
Sticklor started the story by visiting Iceland for a few weeks. She said she rented a car and stayed at different locations. When she returned to Iceland later for a writing conference, she took her family with her.
The decision to write about a biracial couple came to Sticklor from thinking about fairness. When she first started the book, she was teaching at a Catholic Girls' School in the Bronx and noticed many disparities.
Writing about people of color made Sticklor "out of her own head" and think outside the box, she said. She began to explore ideas about class and race. As the story unfolded, she decided there should be a biracial couple. While writing, she decided that they would be lesbians.
"The characters kind of tell you who they are," she said. "And they're based on a few people I know very well."
When asked why she decided to write about a sheep farm, she replied, "That's what they have there. They have very little other stuff."
For the novel, Sticklor had a "sensitivity reader" to help him write from perspectives that did not come from his own experience.
"She really dug into the nooks and crannies of things that I wouldn't even have thought of," Sticklor said.
"Just So Many Places" can be found on Amazon.com.
Another ongoing project is a fantastic young adult book series on Vikings. Sticklor wrote the first book and is currently editing it.
A young adult book in his series, "The Pan Chronicles", is due out in February.
Growing up in Illinois and living in New York City for about 18 years, Sticklor said she really enjoys living here.
"The majesty of Vermont is not gone," she said. "I always think it's great that when I come home there are mountains and nature. And I get used to not having everything at your disposal. Things are a little further away. is a great place to relax, meet people and build a community of writers. "
Her hope is to participate in local book readings and other events to promote her writing.